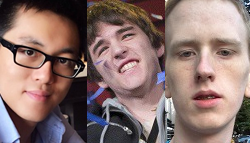 Catch these tournaments with Team Archon this March!
Amaz, Firebat and Xixo will be doing a lot of traveling and playing in Hearthstone tournaments during this month. There are tons of tournaments that Team Archon will be playing so don't miss it.
Here are some tournaments you don't want to miss. Come and cheer for Team Archon!
March 12-13 London - Gfinity Hearthstone
March 15 - Katowice ESL
March 26 - Nvidia Tournament Start
March 27-29 - Stockholm Viagame 2
Don't forget each Tuesday and Thursday, each player is playing LIVE on Kinguin Pro League.
March is filled with many Hearthstone tournaments for Team Archon to play it. Catch them live when they are playing on streams!
-Julio "Noobberry" Liu