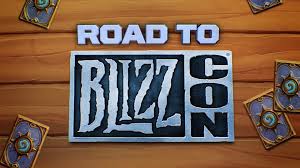 January's Top 16 on the Road to Blizzcon 2015
Not too long ago Blizzard announced the new qualification system for the Hearthstone World Championship 2015 and the first ranked ladder season using it just ended, so we decided to take a look at the top contenders of January.
Since the Road to Blizzcon was build on a Top 16 system for entry into further stages of the qualification, i decided to take a closer look at both EU's & NA's Top 16 contenders for Blizzcon 2015, making it easier to compare lists with the 2014 ones.
After taking a quick look i recognized a few names, but not as many as i thought i would, which is rather interesting in my opinion. So many strong players out there!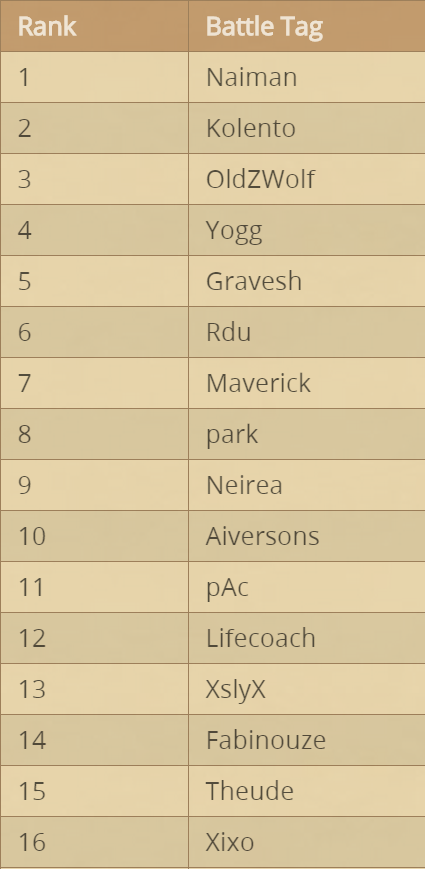 Let's start with my personal home turf, the EU server. Looking at the list we see quite a few familiar names, more so than on NA, like Cloud 9' Kolento who ended up on rank 2, or Liquid Neirea on rank 9, showing that they didn't get to directly move on to Phase 2 in 2014 for nothing.
Other known players in January's Top 16 are RDU & Lifecoach, both experienced tournament players from the newly formed Nihilum Hearthstone team, german player Theude and Archon's very own german juggernaut Xixo, considered to be one the strongest ladder player in the world.
While i have read the name Yogg & Maverick before, the other names on the list don't really ring a bell for me, even though i've been working in editorial for Hearthstone for quite a while now and got to know my share of players. That of course doesn't mean anything, since a lot of today's star players were also relatively unknown players before, so each of these players deserves respect and recognition for placing so high in such a tough competition.
Speaking of star players that were rather unknown before, our very own Archon Firebat, World Champion of 2014, was one of them. He started out as a player and streamer with barely 200 viewers on a regular basis and quickly rose to win the World Championship and streaming for thousands of viewers nowadays. It's one of the Cinderella stories of Hearthstone, which is a thing you really have to love about the game!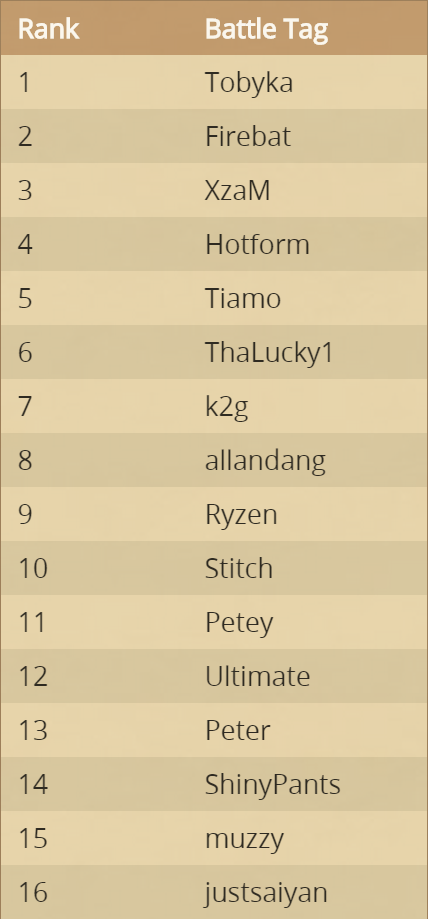 Looking at the Top 16 on the NA server we immediately recognize our player's name on the top end of the list, placing second for the January season, showing again why he is considered one of the very best players in the world.
If we take another look at the NA list we see some other familiar names as well, like JustSaiyan, Hotform or Ryzen, although i have to admit that i personally am not too familiar with the NA ladder, so it may just be my lack of knowledge i can't call out anyone else.
Before the release of the official Top 100 lists, i expected to see a lot more well known names in the Top 16, which just shows how many strong but rather unknown players are out there, competing not only for the chance at winning the World Championship, but also to be recognized for their skill and achievements.
Personally i'm already quite hyped to take a look at the Top 100 list for the February season and comparing it to the previous one, because that's when the interesting stuff is going to happen!
Will we see the same names again? Will we see more of those star players in the Top 16 or will there be even more new names we haven't seen before? I personally am super curious!
No matter what happens though, the race is on, may the best players win!