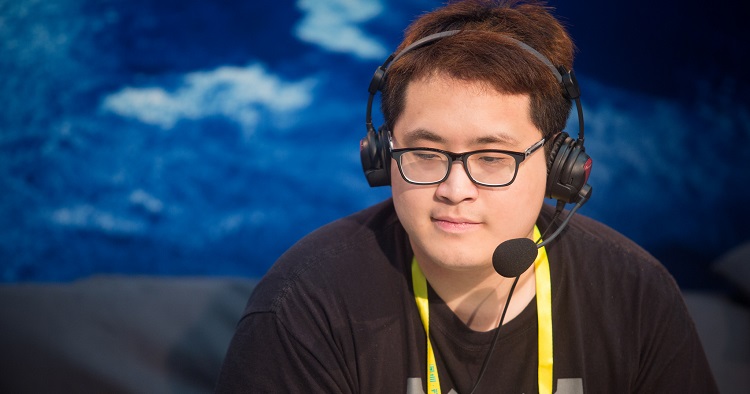 Pinnacle 3 - A recap + winner's interview
Just a week ago the Pinnacle 3 tournament ended with Harry "MaSsan" Cheong finishing in first place, defeating his opponent David "Dog" Caero with a strong 4-1 performance.
To get to the finals both of these players had to go through a tough competition, Massan went on to defeat Archon Xixo 3-1 in his first match, followed by another 3-1 against TempoStorm's Gaara, just to be stopped by none other than Dog in a close 3-2 series. Dog himself went undefeated with a 3-1 vs C9's Ek0p and a 3-0 vs Faramir before facing Massan in the winner bracket finals.
While Dog was now one of the finalists, Gaara went on to defeat Faramir in another close 3-2 series, just to be stopped by Massan with a crushing 0-3.
Now facing Dog again, Massan went on to lose his first game in the series, just to clean sweep Dog with 4 consecutive wins, mostly using his Hunter deck.
I sat down with Massan for a short winner's interview and asked him about his preparation, his opponents and some other stuff.
---
Hey Massan, glad to have you here. 
First of all, how does it feel to win your first tournament in 2015?
I got Top 4 in my first tournament in 2015, which was the Kinguin for Charity winter 2015 tournament, so it was great winning the second tournament of the year I participated in!
How did you prepare for the tournament? Did you watch specific streams to scout certain opponents? Did anyone help you preparing, if so who did you practice with?
I learned that my best style is to prepare decks that can all-kill my opponent, regardless of my deck. Instead of preparing for specific deck counters, I prepared for combination of decks that will be scary regardless of what I put down. I prepared decks and practiced by myself, but I did take Senx's Hunter deck as it just fit into my synergy of decks perfectly.
While I was preparing, I did believe that decks had evolved enough (or there was not enough development of amazing decks) that it almost didn't matter what class I took with me - although combination of decks matter a lot. I prepared 7 classes in total, took a look at each combination of decks and counters, and picked 2-3 that stood out the most and decided my lineup.
You did come back from military training not too long ago, right? Did that change your view on the game in any way? Like are you more diligent now?
It did. I don't have as much time to practice and this limits my sight of what other people are doing, as well as my stats that I farm off ladder to see what decks are doing well.
I used to stream 6-8 hours, and practice for another 4-6 hours, however now I just cut my practice time except on weekends. I don't know if I'm more diligent though, as I'm streaming as much as I have before I slacked off because of the army (I started taking breaks 3 weeks before it actually happened).
What do you think of GvG and how the meta evolved since its release? Do you think it's a better gaming environment than before?
I believe decks before GvG had evolved enough that everyone had similar ideas going into tournaments. The introduction of GvG was really good for the scene, as people started playing a lot of different decks now, and yes, i think we have a better gaming environment now

Last two question, don't wanna take too much of your time

Looking at the competition in the Pinnacle 3 tournament, was there any player you wanted to avoid facing?
I wanted to avoid Kolento, as he crushed my dream of winning my first title of the year 3-0 in my last tournament. However, I did prepare well for his style after finding out that he was in my group!
And lastly, what was the hardest match in the tournament for you and why was it the hardest?
The most difficult match was the winners finals match vs Dog, as the game went to match point for both of us. I think I out-mind gamed myself on coup as well!
haha, yeah i could see how you could out-mindgame yourself, stuff like that happened to me in my MtG time as well.
Thank you Massan for your time, it was a real pleasure!
written by StoTheX